In this blog article you will learn how to create live polls and live surveys very easily and in just a few steps and how you can even insert images and graphics into your live polls and live surveys for the ultimate in voting fun! We wish you lots of fun reading and conducting live votes with the mypinio live poll tool!
You want to know what's up? Ask your community by using free Live Polls on mypinio!
Live polls and live votings are a fantastic way to find out what other people think about certain things. And live polls give direct feedback to your questions. In no time, you can see the results of your live poll and gauge what people prefer. Live polls are really a lot of fun! And if you are a member of the mypinio community, you can create live polls for free. By the way, your membership in the mypinio universe is also free! You can even earn money on mypinio! Namely with paid surveys!
→ Earn money with paid surveys
There are lots of great topics for free Live Polls
Live polls can be conducted on many interesting and exciting topics. For example, what people's favorite brands are, what cities they like best and what food they like to eat. Or you can ask in a live survey in the morning what to wear to the party in the evening. On mypinio, you can also create live polls with pictures. And that's super easy. And creating Live Polls on mypinio is free You take a few selfies in different outfits or take existing photos and upload the images to the Live Poll tool on mypinio. Then you post the live poll and it appears in your community's timeline. Now people in your community can vote on what to wear to the party. And after a short time you can see what they voted for. That's great!
Examples of free Live Polls and free Image Polls
Below are examples of live surveys and live image surveys as they are used in practice. Live Polls and Live Image Surveys can really be used in almost all areas of daily life. On mypinio, we've had some very fun live polls. People ask the community what they should eat in the evening or what cocktail they should drink at a party. There was also a band that asked their fans what songs they should play at a concert. You see, you can really use Live Polls for all topics that are important and fun for you! But there are also very serious Live Polls and Live Image Polls. And no matter what topic you use Live Polls for, it's always free on mypinio!
Conduct a live poll to rate ideas
Imagine you and your team have a great idea that you just came up with. You are not sure if other people will find your idea as brilliant as you do. To find out how your idea is received by other people, you can simply start a Live Poll on mypinio, present your idea and let the community members vote on what they think of your idea. A Live Poll produces results within a very short time, so that shortly after the Live Poll is published you can decide whether you want to continue working on the idea or develop new ideas. To start a Live Poll at mypinio to find out whether an idea is good or not, you don't have to put any money in your hand. Live Polls on mypinio are free!
→ Use mypinio as crowdsourcing community
How do people rate your new slogans or claims?
You want to test a new slogan for an advertising campaign or develop a claim for a logo? Then simply use mypinio's free live polls and ask the global community what they think of your suggestions. You can then submit the best-rated slogans and claims for further evaluation. But with Live Polls you can make an initial selection.
Perform Live Image Polls in logo development
Imagine a client has asked you to develop a logo for a new brand. You have made a few drafts and are undecided which variants you would now like to pass on to the client. Now you can easily start a Live Image Poll on mypinio, which contains all possible logo designs. The results won't be long in coming, because Live Image Polls are known for delivering very fast results.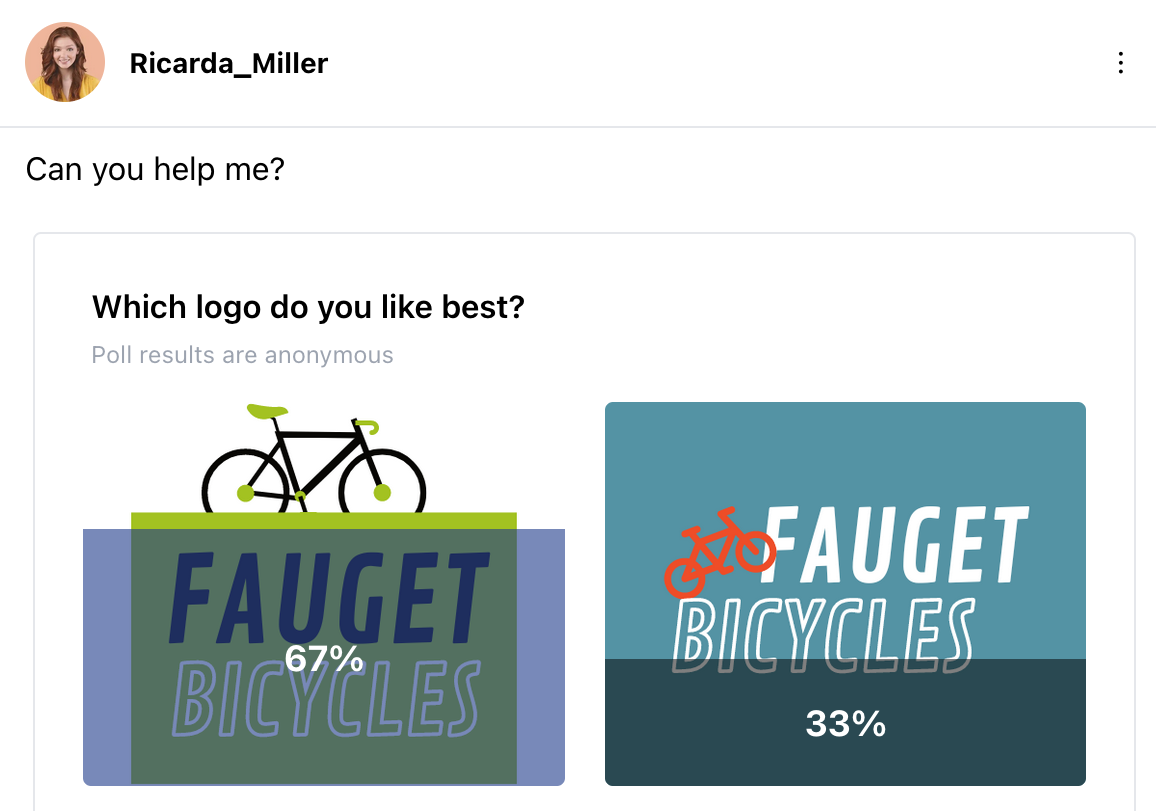 ---
Live poll during an event
The great thing about Live Polls is, as the name suggests, that you can see the results of a Live Poll immediately! Universities, for example, use Live Polls to evaluate the course directly and in an immediate impression. For this purpose, teachers create a Live Poll and send the link either by mail to the students. The students can then immediately vote whether they liked the event or not. And best of all, students can also see how their fellow students voted as a whole. Of course, each individual student remains anonymous.
Live Poll for member votes in clubs and associations
If you are a member of a club or an association and you are facing an important vote, for example who should be the new chairman of the club, then you can easily make a Live Poll. The best thing is that you can not only put the names of the candidates to the vote, you can also insert the portraits of the candidates with a Live Image Poll into the Live Poll, so that the members have a picture of the people they should vote for.
Where should the next class trip go?
Live Polls and Live Image Polls are also used in schools. For example, in the election of the school spokesperson, the confidential contact or the parents' council. A senior class at a high school used a live poll to decide where to go on the final trip after graduation. Pictures of sights in various cities were posted without mentioning the name of the city. The students were asked to decide where they wanted to celebrate their graduation together based only on the pictures.
Use free Live Polls for trailers, YouTube videos, podcasts or live casts
For example, if you're a podcaster or YouTuber or regularly publish live casts, you can ask the community if they like your performance. You can also simply post the link to a mypinio live poll somewhere and your viewers or listeners can vote, even if they are not part of the mypinio universe. That's because live polls on mypinio can be accessed directly without anyone having to log in. So you can ask people outside of mypinio for their opinion on your podcasts, YouTube videos or live casts. It's so easy and so funny! Assuming you use the right live survey tool!
Influencers use Live Polls and Live Image Polls for self-marketing and promotion.
It is very important for influencers to keep their followers happy and post something regularly. The best way to do this is not just to flood your followers with flat posts, but to engage them to actively respond to posts. And with live lolls, you can do that brilliantly and it has double benefits. Just like a fashion influencer did on mypinio with our live survey tool. She posted 3 different outfits from the same brand and asked the community which outfit people liked best. On the one hand, the fashion influencer was able to engage her followers, and on the other, she was able to advertise the fashion brand.
Voting on the content of Zoom meetings
Zoom meetings, or live online meetings via video tools in general, have not only been booming since Corona. Every day, countless online meetings are held in companies, clubs and associations, and often decisions or next steps have to be taken. It is very convenient to post a link to a live poll in the chat and make it accessible to all participants of the online meeting, for example, to conduct votes or to determine the topics to be discussed next. The results of the voting can then be seen by everyone immediately!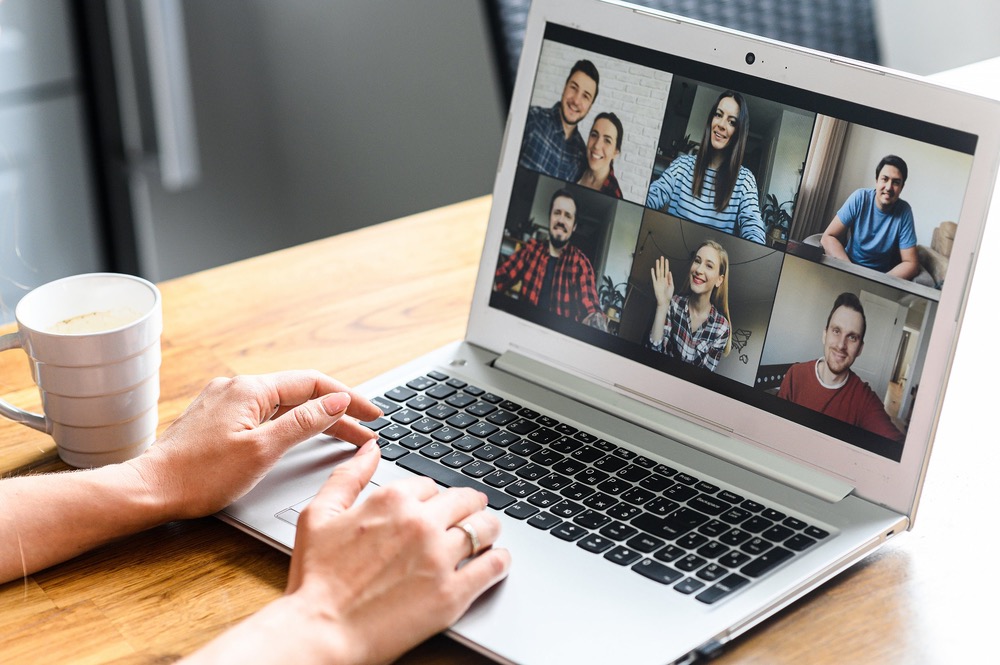 Live polls are often conducted following a live online meeting because decisions have to be made on certain topics.
It is so easy to create free Live Polls with images on mypinio
Creating free live polls with images on mypinio is very easy. You create a live poll as simply as a post. Simply click on Quick Poll in your timeline and a layer opens. Then choose Image Poll. Here you can upload images for your Live Poll.
Step 1: Click on Quick Poll in your timeline

Step 2: Click on Image Poll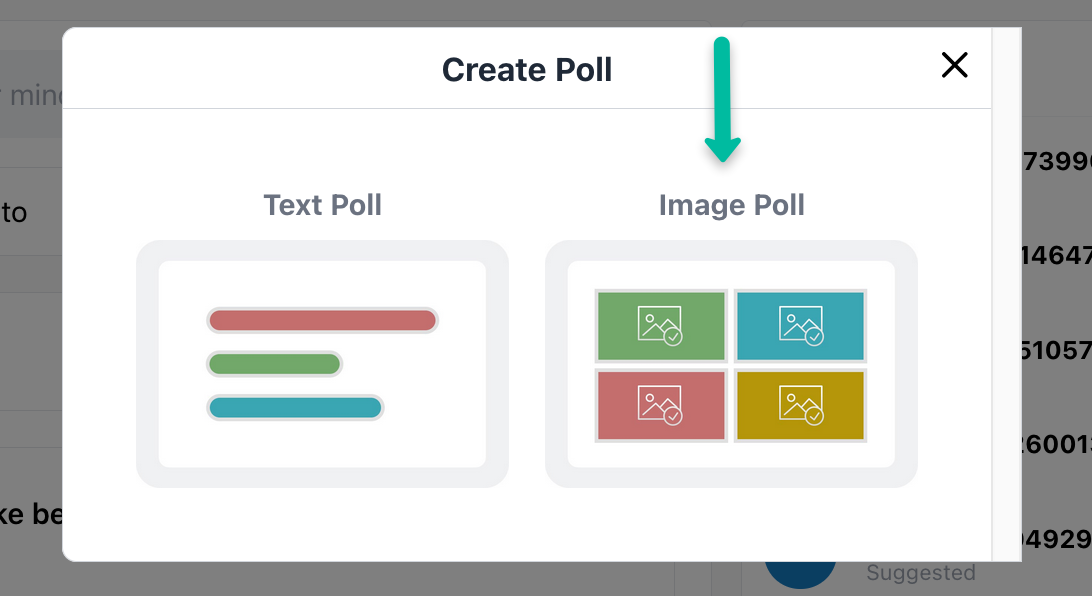 Step 3: Ask a question and upload images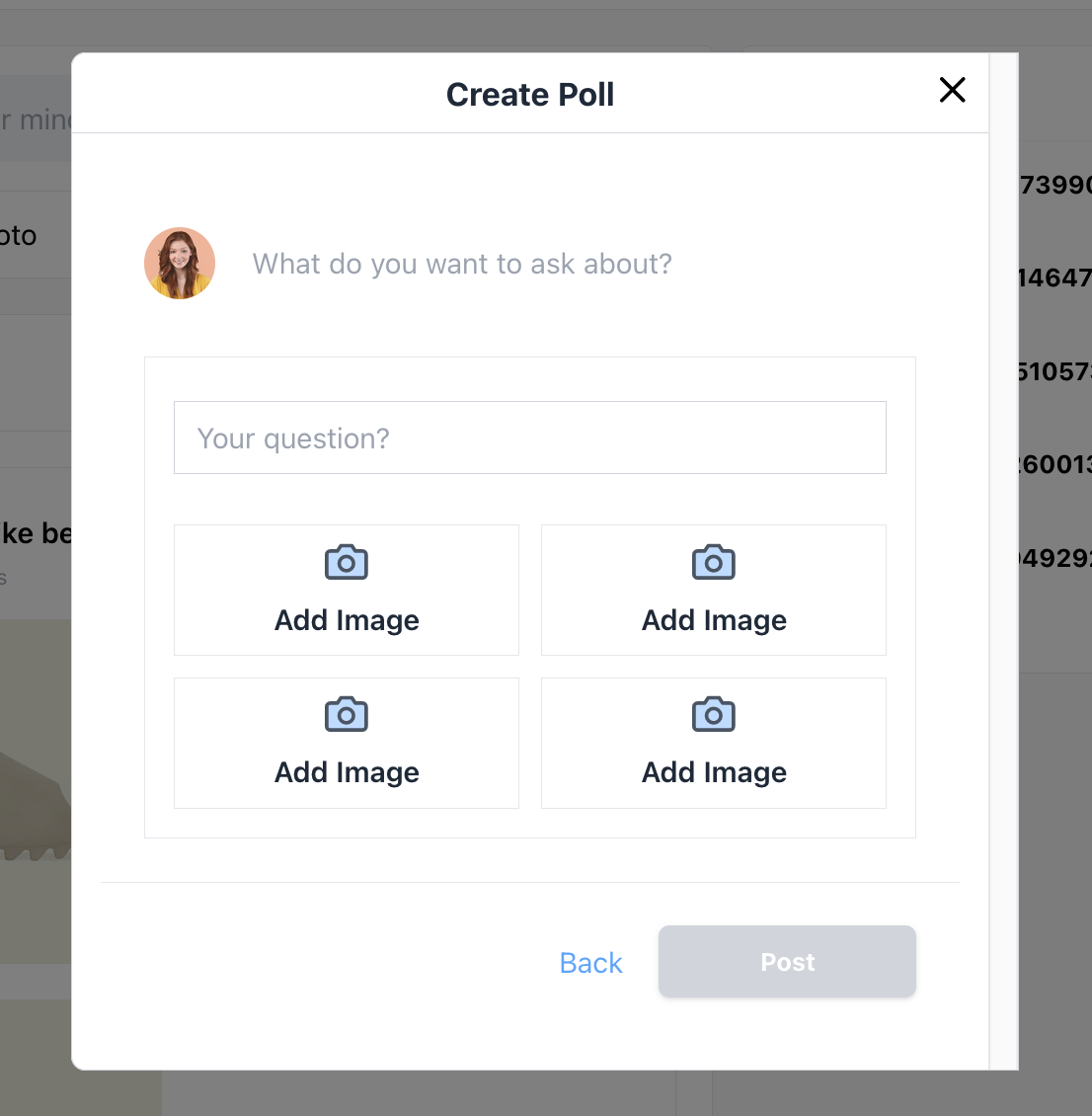 Get super fast results on your free image poll
Live Polls and Live Image Polls are becoming more and more popular because you get direct, immediate and honest feedback without having to wait long for it. And Live Image Polls are even more popular. People vote much faster and more often when they see Live Polls with cool images. Because people really like to look at pictures. Images move and emotionalise us. But text polls also have their justification, for example when a text is to be evaluated without emotionalising images being seen.
Example of a live poll: fashion influencer Anastasia "Nastya" Borisova asks the community for their favourite outfit
Influencer Anastasia "Nastya" Borisova (nasty.bory), known from the TV show Germany's Next Topmodel (GNTM), asked the mypinio community which Coachella outfit the members liked best. To do so, she created a live poll on mypinio with pictures showing the fashion influencer, who proudly came 5th on Germany's Next Topmodel in 2020, in various outfits. Anastasia then posted a reel on Instagram with a link to the live p on mypinio, as Istagram itself does not allow such a live poll. Within just a few seconds, 228 community members voted. In agreement with Anastasia, we have made the vote public for you so that you can see for yourself the great function of a live poll.
→ Live poll by fashion influencer Anastasia
→ Profile of Anastasia Borisova on Instagram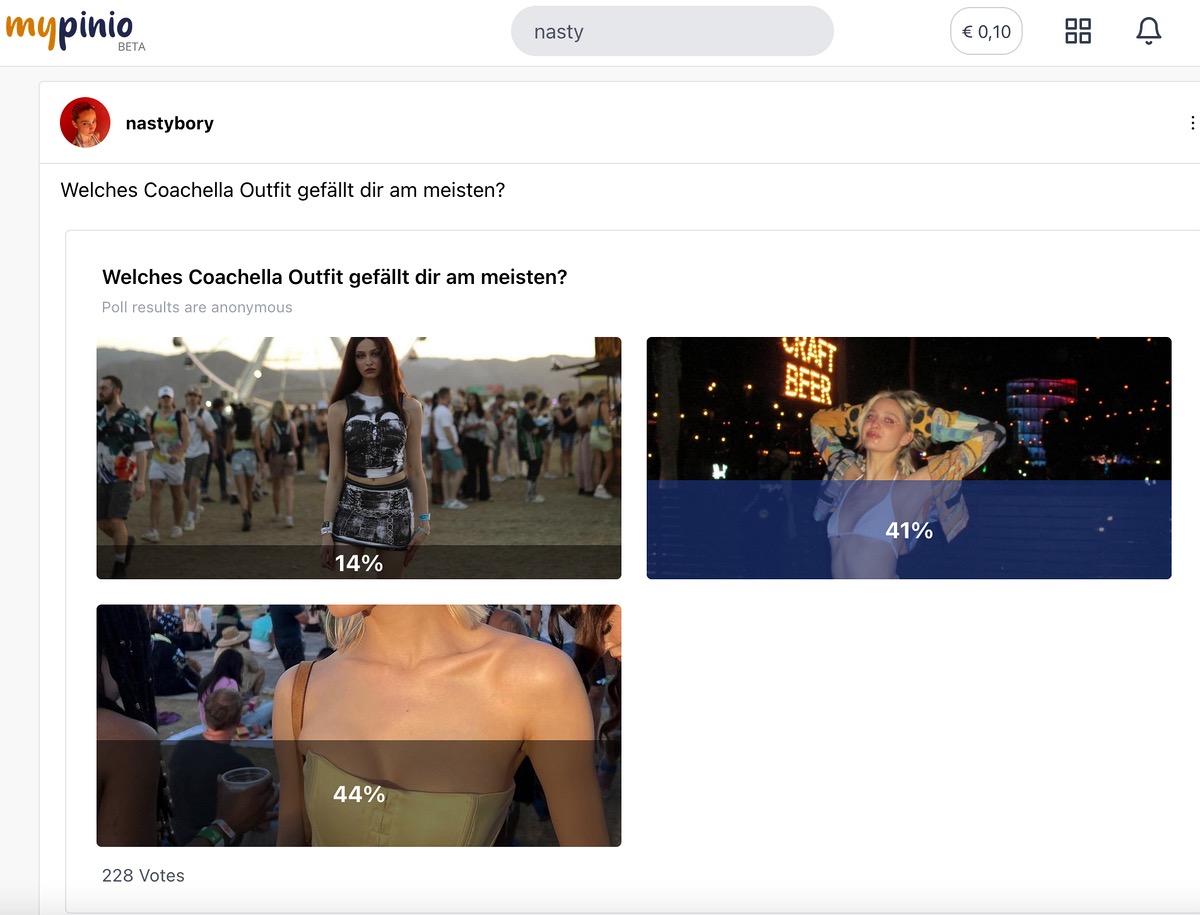 You also want to create live polls with images for free? Register now on mypinio!
Join mypinio now and start your image polls immediately. And the best thing is: You can also earn money on mypinio by participating in paid polls. You can find out how here: Make money with paid surveys
Keywords of this blog post
Free Live Polls |  Free Image Polls | Live Votings | Votings | Live Poll Tool | Live Survey Tool