This blog article tells you what boredom is, how it happens and gives you valuable tips on what to do about simple and common boredom. But you will also learn that there is a form of perceived boredom that can be quite problematic and where it is better to seek advice from friends or from people who deal with the subject professionally. Because sometimes the feeling of boredom can also be confused with depression or other mental health challenges.
What is boredom?
Boredom is a pretty bad feeling. Do you know those days when you don't know what to do with yourself, stare into space or just hang out on the couch? Those days just happen and it's totally normal. Everyone knows it! For example, you've planned to go cycling in the countryside and suddenly a thunderstorm comes up and you have to stay at home. Then you reach for the game console or do things you've been putting off for a long time. Or you just chill out a bit and listen to music.
How does boredom arise?
Boredom can arise when a person feels that the current environment or situation is uninteresting or uninspiring. Underchallenge or excessive demands can also be reasons for boredom to develop. Boredom can therefore also arise from a lack of variety, if one is in a monotonous environment or if one carries out the same activities over and over again. Another factor that can lead to boredom is a lack of goals or a sense of futility. If a person does not have clear goals or feels that everything they do does not really serve a meaningful purpose, this can lead to a person becoming bored.
However, boredom can also arise when a person is in a situation where they are not really just bored because there is nothing to do, but because they feel lonely. Boredom can also arise or be intensified due to stress, depression or other psychological problems.
Not all boredom is the same
There is also a form of boredom that is worrisome and should not be taken lightly. The psychologist John Eastwood described this worrying form of boredom in one of his books as an unfulfilled desire for a satisfying activity. This form of boredom does not arise from a lack of external stimuli or from having nothing to do. It arises from within. This bad form of boredom can be a very oppressive feeling. And it can cause real stress. Moreover, scientific research assumes that boredom can also be linked to aggressive behaviour, depressive moods, eating disorders or even addictive behaviour. It is not uncommon for people to smoke or drink more alcohol when they are bored.
However, this is not the kind of boredom we are talking about in this article. If you experience this kind of boredom, it is helpful to talk to someone who deals with it professionally.
What can you do against boredom?
So what can you do about boredom that arises from a situation? There are countless pieces of advice on the internet. Popular advice against boredom includes tidying your room, sorting your wardrobe, cleaning the fridge, meeting friends, learning a new instrument, playing games, singing, listening to music or reading a book. I'm sure everyone knows these tips. But what else can you do to overcome boredom and not feel like you've fallen into a hole? Overcome excruciating boredom sensibly and even earn extra pocket money doing it. This is one of the best tips you've ever read.
Tip: paid surveys against boredom
Paid surveys are surveys in which you earn money or vouchers for taking part. More and more people are taking this tip against boredom to heart. And this tip also earns you extra money. So if you're bored again because you're sitting in a waiting room, have missed the bus or train, or because your date has cancelled, just do something useful to counteract the boredom that may arise. And the best thing is: in times of boredom, you can also contribute to having your opinion heard. After all, paid surveys are ultimately about companies or research institutions wanting to find out people's opinions. They want to improve products or services, for example, and therefore ask consumers for their opinions in order to understand what they need to do so that consumers find their products better. Other surveys are about sustainable behaviour in relation to the environment, or to understand how people think about politics and society.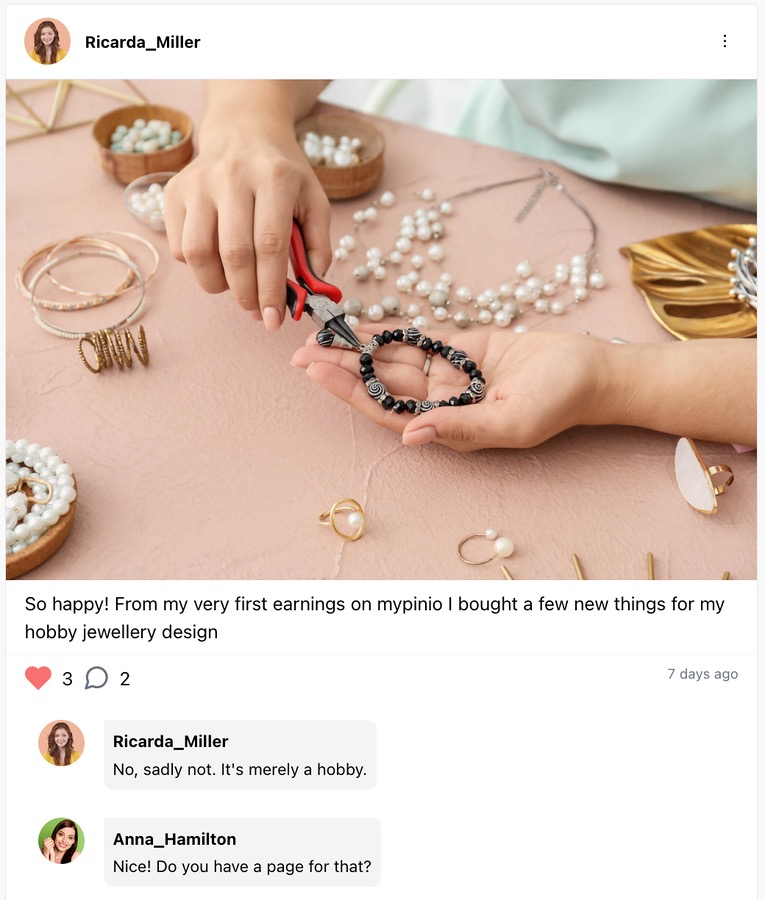 Do it like Ricarda! Take part in paid surveys and earn money against boredom and buy something for your hobby. Register now for free at mypinio!
Do something useful against boredom and become part of the mypinio community
So if you want to do something useful against boredom, come to mypinio and become part of a large and lively community. Here you can take part in paid surveys whenever you are bored and earn money and vouchers with your boredom. All you have to do is register for free, answer a few questions about yourself and you're ready to go! By the way, you can travel through the mypinio universe completely anonymously, because we don't require you to use your real name. And you can exchange ideas with other members, because mypinio is not just a platform where you can earn money and vouchers with paid surveys. mypinio is also a social media network where you can post pictures and articles, comment and like and also conduct your own surveys. You can also find new friends here and communicate with them via a timeline. This will definitely help you overcome your boredom. Try it out right away and earn money against boredom.
What else can I do against boredom? What tips are there?
There are many ways to combat boredom. Just try some of the following tips and suggestions and find out what works best for you. You're sure to like one or two of the tips and the suggestions will help you overcome your boredom. If you don't like any of these tips for overcoming boredom, think about getting help from a professional, because boredom can be really distressing and can be the result of depression. Take good care of yourself and make sure you are well!
Here are 30 really useful tips against boredom!
Do something you've always wanted to do: Have you always wanted to try a particular hobby but never found the time? Now that you're bored, it's the perfect opportunity!
Do something with friends or family: Spend time with people you like. You can do something together, like go for a walk, go to the cinema or just chat. Or talk about what you can do to relieve boredom.
Do something creative: draw, paint, make something or write something. Creative activities can be very satisfying and help to clear your mind. Seeing that you have created something can be very fulfilling. Show it to your friends or family and ask them for their opinion.
Take a trip around the world in your mind: Use this time to take a trip around the world in your mind. You could, for example, look at pictures of interesting places, watch films about foreign countries or read books about travel destinations. Your boredom will quickly disappear and new destinations may emerge.
Get involved with a new topic: read a book or go on the internet to find out about something that interests you. There is always so much to learn and discover.
Get moving: Play sports or go for a walk. Exercise not only helps you keep fit, it also helps you clear your head and feel better. For example, jogging or work-outs help to relieve boredom.
Do tasks and chores: Use this time to do things that you have been putting off for a long time. You will feel better afterwards because you have achieved something. And it is also meaningful. And when people do something meaningful, they don't feel bored.
Relax: Take time to relax and regenerate. For example, you could take a warm bath, read a book or just close your eyes and take a few deep breaths.
Play a game: Whether it's a board game, a computer game or a video game, games can be a fun way to kill time.
Take a trip: Explore your surroundings and do something you've never done before. For example, you could go on a walking tour, discover a new park or visit a museum.
Get involved in a cause that is important to you: Use your time to get involved in a cause that is close to your heart. For example, you could work for a non-profit organisation or get involved in a social or political cause.
Make a list of things you would like to do: What else would you like to experience or achieve in your life? Make a list of goals and work on achieving them. Your boredom will quickly disappear!
Use the time to improve yourself: Do you want to learn something new or improve in a particular skill? Use the time to further your education or learn a new skill. It's a great feeling to learn something new and show it to others.
Listen to music or watch a movie: Music and movies can be a fun way to kill time. You could also listen to new music or watch a new movie that you haven't seen before.
Spend time with your pets: Pets can be a great source of entertainment and relaxation. Spend time with your pets by taking them for a walk or just petting and grooming them.
Do something useful: Use the time to do something useful that you may have been putting off for a long time, such as cleaning out the closet or tending to the garden.
Cooking or baking can also help relieve boredom. Cooking and baking can be very satisfying activities. Try a new recipe or bake a cake for your family or friends. They will definitely enjoy it.
Do yoga or meditation: Yoga and meditation can help calm and relax the mind. Search online for instructions or attend a yoga class near you.
Spend time in nature: Take the opportunity to get out and enjoy nature. For example, you could take a walk in the park or go for a hike near your home.
Use the time to tidy and organise your home: A tidy and organised home can help you feel more comfortable. Use the boredom to rearrange the furniture in your home, for example. V
Listen to podcasts or audio books: Podcasts and audio books are a fun way to kill time and learn something new at the same time. There are many podcasts and audiobooks on a variety of topics, so you're sure to find something that interests you. Search the internet for platforms that offer podcasts and your boredom will be history.
Write a diary or blog: Writing can be a great way to get to know yourself better and write down the thoughts and feelings that are going through your mind. For example, you could write your own diary or a great blog that other people can read and comment on…
Use the boredom time to sort and organise your photos: If you have a lot of photos on your computer or mobile phone, you could use the time to sort and organise them. For example, you could create a photo album or put together a slideshow of your favourite photos.
Do a challenge: Choose a challenge you would like to do and put it into action. For example, you could do a 30-day yoga challenge or try a new sport every day.
Use the time to look after your health: For example, you could cook a healthy meal, go for a run or take care of your skin care. It feels good to take care of your health and yourself.
Use the time to nurture your relationships: Spend time nurturing relationships with other people. For example, you could rekindle an old friendship or strengthen your relationship with your family.
Do puzzles to relieve boredom: Puzzles can be very entertaining and help you concentrate. For example, you could put together a puzzle with a beautiful landscape or an interesting motif.
Another good tip against boredom: Create a playlist with your favourite songs: Make a playlist of your favourite songs and listen to them. You could also discover new music by listening to the radio or browsing music streaming services.
Spend time with your hobbies: Use this time to pursue your hobbies. For example, you could knit, crochet, paint or play a musical instrument. A good hobby is the best cure for boredom.
Do a relaxation exercise: Relaxation exercises such as progressive muscle relaxation or breathing exercises can help calm and relax the mind. Search online for instructions or attend a relaxation class near you.
Use the time to take care of your finances: Spend time reviewing and optimising your finances. For example, you could make a budget, write down your expenses or think about how you can save money.
Make a bucket list: Make a list of things you would like to experience or achieve in your life and work towards achieving them. For example, you could go on a long trip, try a quirky job or try a new sport.
I'm sure there are many more tips on what you can do to combat boredom. Do some research on the internet and find something that you really enjoy doing. Then you can say goodbye to the boredom that plagues you!
Keywords of this blog post
boredom | what to do against boredom | overcome boredom