In this blog article you can read what exactly a brand ambassador is, why brand ambassadors are so important for your company and your brand, and what skills brand ambassadors should have so that they can support your brand in the best possible way. Anyone who wants to become a brand ambassador will also find out in this article.
What is a brand ambassador?
Brand ambassadors as part of an influencer marketing strategy are either customers who have a very strong connection and identification with your brand while using your products or services. Brand ambassadors proudly wear e.g. bags, sneakers, backpacks, watches or clothes of certain brands, flaunt them on social media platforms and often talk about them. Brand ambassadors are very loyal customers who recommend their friends and acquaintances to buy your products and use your services. Brand ambassadors can also be influencers who, in exchange for payment, publish posts that promote a brand and portray it in a positive light.

Why are brand ambassadors so important?
According to a study by the market research company Splendid Medien AG, in which 1,503 participants between the ages of 18 and 69 took part, it was concluded that 90% of all consumers read customer reviews on rating portals and social media platforms. More than 60% of all respondents said that they generally include customer reviews in their purchasing decisions. A study by DMI (Digital Marketing Institute) confirms this: It states that 74% of consumers rely on social networks when making purchasing decisions. Here it becomes clear why brand ambassadors are gaining particular importance. Consumers hardly trust in television advertising anymore. They look to other consumers who have had real experiences with a brand, product or service. Social media platforms are also consumed much more frequently.
How to become a brand ambassador
In fact, there are brand ambassador jobs that companies fill as a position. However, these are then usually employees who are an interface of marketing staff and social media managers. They create content, for example, and keep their own community entertained. However, this type of brand ambassador is not part of the influencer marketing strategy. Here, brand ambassadors tend to be influencers who promote companies' products and brands in exchange for money. Brand ambassadors therefore need a lot of followers in the social media networks, i.e. a very large target group that they reach with their postings. But there are actually brand ambassadors who promote a brand for free because they love that brand and identify strongly with it. The marketing departments of clever companies deliberately stimulate this identification and take advantage of this loyalty of their customers. For example, they encourage members on social media platforms to share and like content or to write positive reviews on rating portals. So there are different ways to become a brand ambassador and there are different definitions of the term.
What qualities must a brand ambassador have?
The qualities and skills that brand ambassadors should have are closely related to the way in which a person fills this role. Sometimes it is simply enough to be famous and have many followers and also a good reputation. This is more or less the case with famous people who have a common interest in a brand and promote it, such as actors or musicians. Employed brand ambassadors should above all have high communication skills and be familiar with social media. They should also have a perfect command of their native language. Brand ambassadors who have to be at trade fairs or receptions, for example, should have a good personal appearance and be outgoing. When influencers act as brand ambassadors, they should have a high number of followers and be able to shoot videos and take good photos and not be shy in front of the camera. Good command of the native language and another language is not unimportant here either.
Why are brand ambassadors so enormously important for companies and brands?
Brand ambassadors can be hugely important to a brand as they can help build brand trust and credibility and create positive associations. They can also help to increase the brand's reach and visibility by representing and recommending the brand in their personal and professional environment.
Brand ambassadors also have the advantage of being authentic, as they present the brand from a personal perspective rather than as a pure commercial. This can lead to the target audience being more willing to believe them and follow their recommendations.
However, it is important to note that choosing the right brand ambassadors is of great importance to the brand and that active and successful mentoring of brand ambassadors is necessary to maximise their effectiveness.
Find engaged ambassadors for your brands
Brand ambassadors play an increasingly important role for companies, as they promote brands and products on social media and are true advocates for brands. In addition, brand ambassadors test products with passion and provide valuable, important and honest feedback. After all, brand ambassadors want their favorite brand to keep getting better. By identifying strongly and unwaveringly with your brand, brand ambassadors become true fans who sweep other customers away with their enthusiasm. And real fans promote their favorite brand on social networks like Facebook, Twitter, Instagram, LinkedIn or here at mypinio.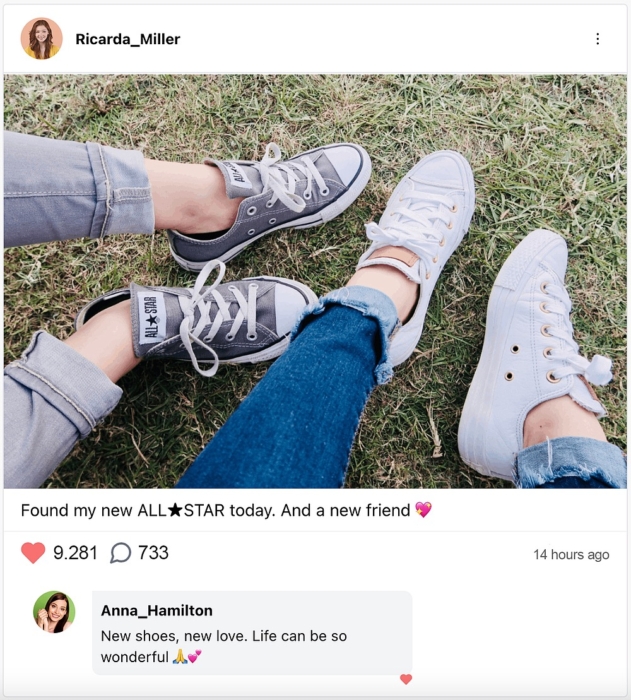 mypinio connects businesses and consumers
At mypinio, people have come together to make the world a little better by rating products, brands, companies and services and participating in surveys. This is extremely important for companies, as they can use the results of the surveys to improve their products and services and strengthen their brands. As an intelligent combination of business and social media platform, the mypinio community brings companies and consumers together. Here, companies also find committed and loyal brand ambassadors.
And this is how you find brand ambassadors at mypinio
You want to find real brand ambassadors on mypinio? Sign up as a company on mypinio and start your brand ambassador campaign, which will be shown to members in the timeline of the mypinio universe. Find engaged and loyal people who test your products and report how satisfied they are with your brand. Benefit from the high engagement of members in the mypinio universe and find valuable brand ambassadors today!
Keywords of this blog post
brand ambassador | importance | finding