In this blog article, you'll learn which survey rewards are the most popular when it comes to paid surveys. You will also find information on which rather rare non-cash benefits are most frequently used as rewards for participating in paid surveys. Our editorial team hopes you enjoy reading.
Rewards and incentives significantly increase the willingness to participate in paid surveys
Nowadays, if you want to attract participants to surveys, you have to come up with something, such as rewards, bonuses or incentives. Because there are now more surveys to be found on the Internet than at any time before. Competition for the favor of survey participants, who provide important and valuable data for upcoming business decisions, is fierce and closely contested. After all, data is the new gold. And today, survey participants are no longer willing to give their opinions and votes completely free of charge to companies that then directly or indirectly make money from them. Be it because they sell the results of studies and surveys. Or because they increase profits on the basis of data from surveys. Therefore, it is only fair that survey participants also profit from making their data and opinions available. In the following, we will enlighten you as to which rewards are particularly popular with survey participants.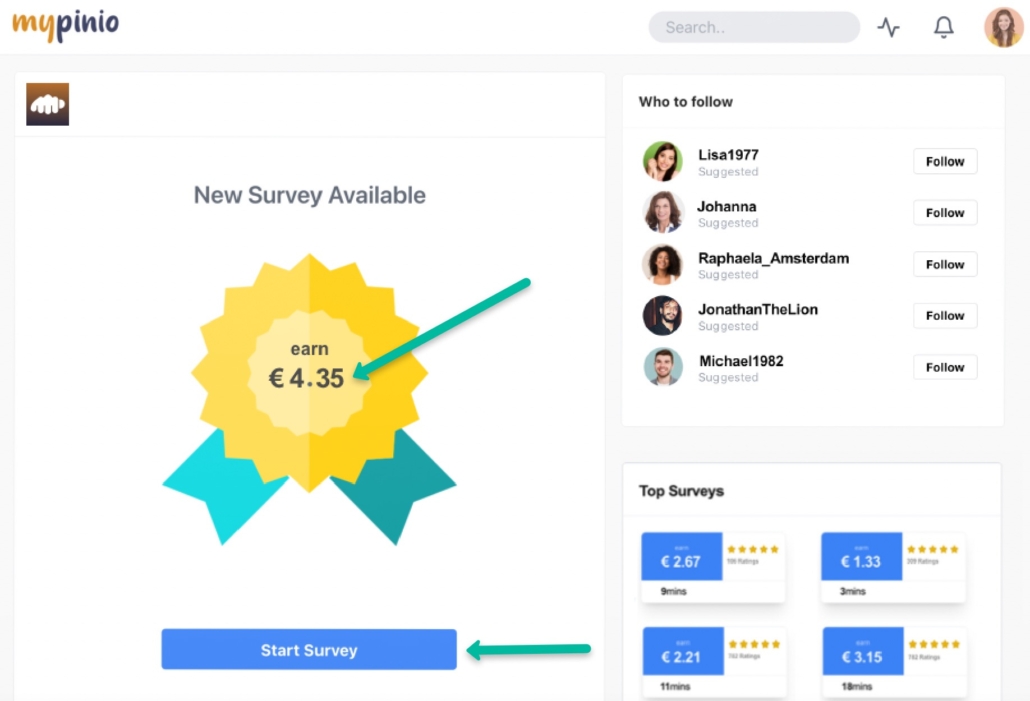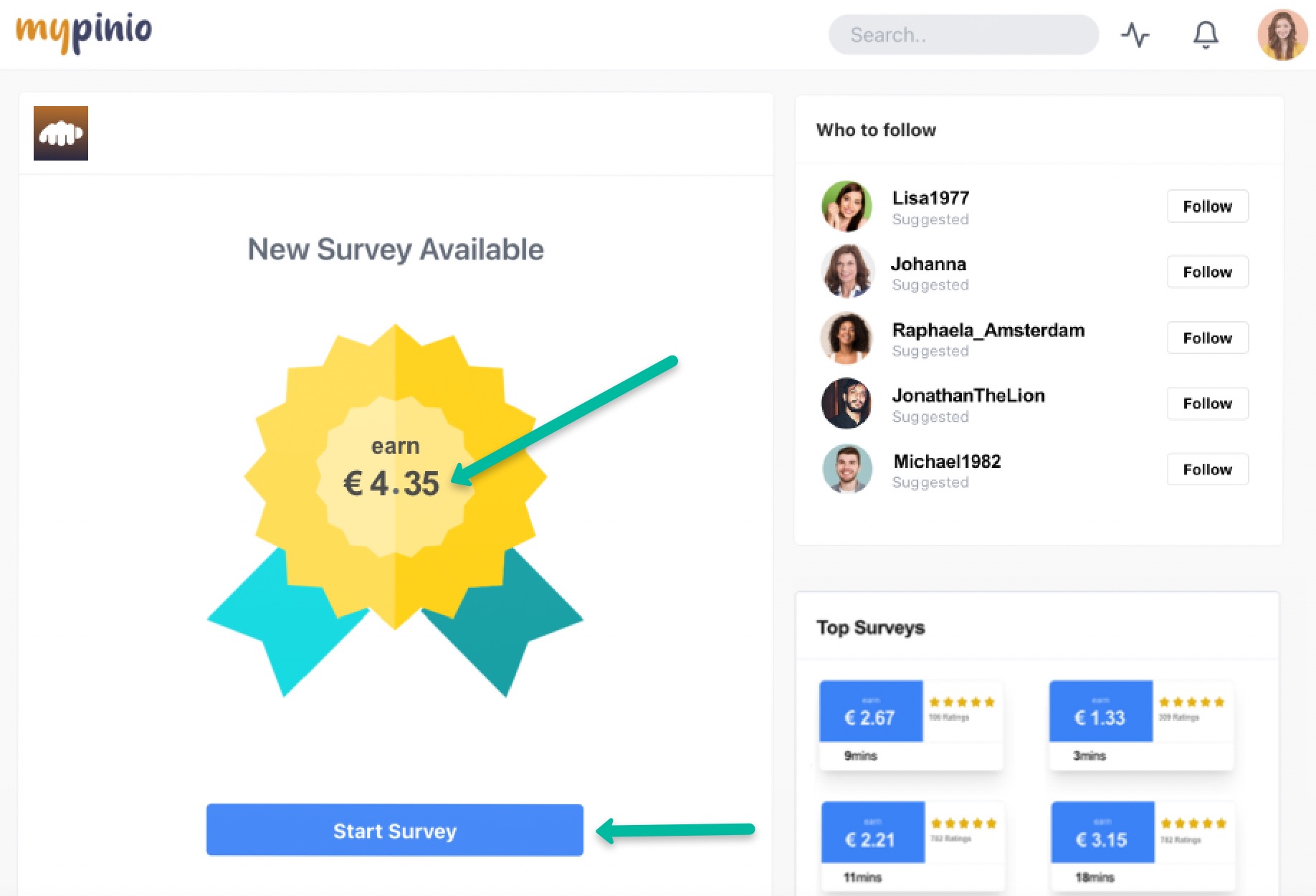 The typical survey badge by which members of the mypinio universe recognize new paid surveys. The amount of the reward for participation is shown on the badge.
What kind of rewards are there for paid surveys?
The most popular rewards for participating in paid surveys are usually cash, vouchers or points that can be redeemed for cash or vouchers. Some companies also offer non-cash benefits or gifts as rewards, for example electronics, clothing or household items.
It is important to note that the rewards offered for participating in paid surveys are usually proportional to the time and effort required to complete the survey. Some surveys can be very short and take only a few minutes, while others can be longer and require more effort. The rewards offered for participating in such surveys may therefore vary.
Money tops the list of most popular rewards for survey takers
In the world of paid surveys, a distinction is made between cash and non-monetary incentives offered to survey participants. It will certainly not surprise anyone that the higher the amount of money offered to survey participants for taking part in a paid survey, the higher the response rate and the faster survey initiators get the desired quotas. On portals where you can participate in paid surveys, the surveys that offer the highest amount of money are awarded the fastest. Survey initiators who do not need particularly fast feedback can offer participation in a paid survey at more moderate prices. However, non-monetary rewards are also very good incentives for participation in paid surveys. These include for example vouchers that can be redeemed in online stores. But non-cash rewards, such as free products, books, promotional items or the provision of survey results, can also be effective. Nevertheless, the monetary incentive is the most effective. The following information will show you in detail what the most popular incentives are for survey takers to participate in paid surveys.


mypinio offers participants in paid surveys the option of cash payout via Paypal or to their own bank account. And this is very easy and at any time.
Reward #1: Cash payouts of incentives to bank account are popular with elderly survey respondents
The good old bank account is still very popular as a payout method for monetary incentives in paid surveys. And also, although there are now alternative payout options, such as payout via PayPal. But more about that in the following. Paying out monetary rewards to the bank account has the advantage that survey participants immediately have the money to pay the electricity bill or a membership fee in the sports club, for example, without having to make an intermediate transfer of earnings here. And many people, it is hard to believe, do not have a PayPal account at all. Especially those who are of a more mature age. Or they have created a PayPal account at some point, but do not use it. These people trust the safe bank account. For these people, having money in an account is about the same as having money in their pocket. You have to take this into account when you initiate paid surveys so that you don't exclude these people from participating. Because one must not forget here that straight humans over 50 years is a very popular and purchase-strong target group, whose opinion one should listen defined, if it concerns the improvement of products.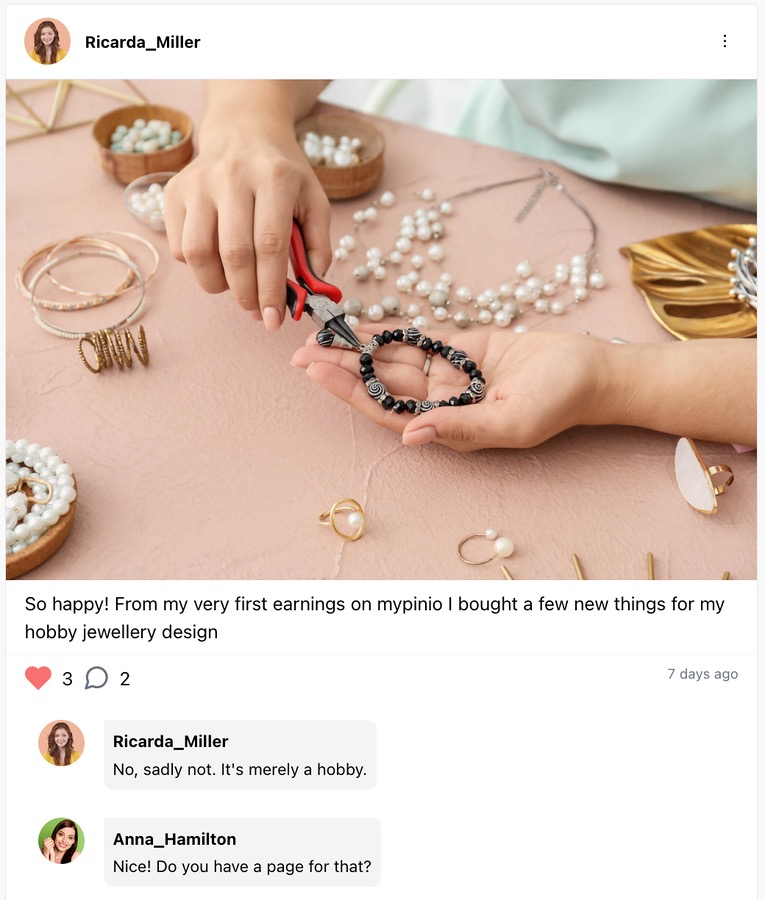 Members of mypinio can earn rewards by participating in paid surveys and fulfill wishes with the rewards they earn. The timing and amount of the payment can be determined by the members themselves.
Reward #2: Cash payout of rewards via PayPal for paid surveys are the hit with younger generations
More than 220 million people around the world now have a PayPal account. PayPal is a subsidiary of eBay and one of the largest online payment service providers in existence. The younger generation is very PayPal-savvy. They use PayPal to pay for their purchases on eBay or other sales portals, because PayPal also offer buyer protection. In addition, transactions with PayPal are very simple. Therefore, people of younger generations prefer to have the money they earn by participating in paid surveys as a premium paid out to their PayPal account.
Reward #3: Do not underestimate vouchers as a reward for taking part in paid surveys!
Initiators of paid surveys should not underestimate vouchers as incentives and rewards for survey participants. Because vouchers also offer advantages. For example, vouchers can be easily passed on or redeemed at very popular online stores, such as Amazon, IKEA, App Store, EA Play, NIKE, adidas, Starbucks, Nintendo and many more. In addition, many online stores offer great deals when paying for vouchers, such as discounts or loyalty cards. Thus, a 50 EUR voucher premium often turns into a higher real value. A disadvantage of vouchers as a premium in paid surveys is not infrequently that several vouchers can not be combined or combined in one purchase. So if you want to buy something that costs 70 EUR, but they have two vouchers worth 40 EUR each, then on many platforms it is not possible to use these vouchers combined, because usually only one input field for a coupon code is given within the ordering process. So vouchers are quite popular rewards for survey participants for taking part in paid surveys. And almost every large company and virtually every online store offer the possibility of redeeming vouchers. This means that vouchers as rewards have a very high level of acceptance and reach.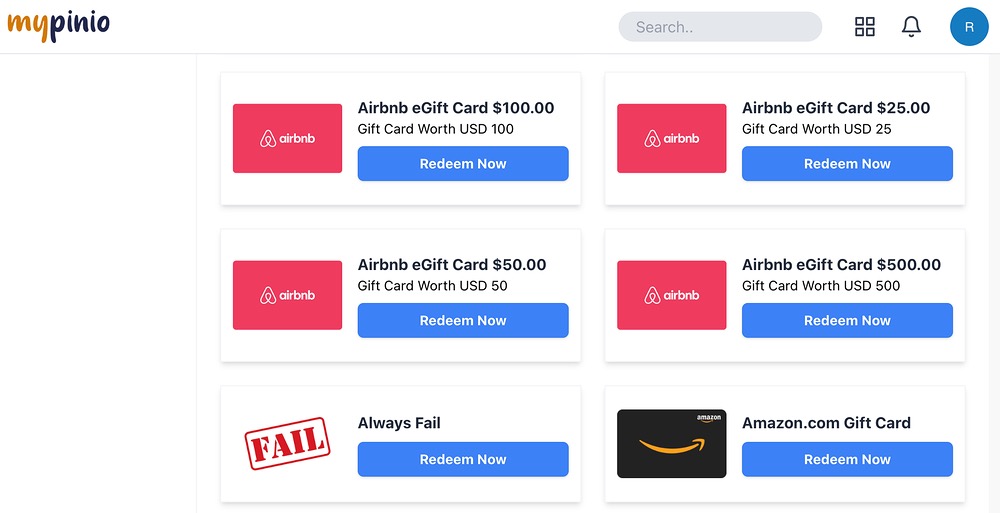 mypinio offers survey participants outstanding rewards in the form of vouchers that they can choose themselves. Engagement with paid surveys grows with the quality of the rewards survey participants receive in return.
mypinio offers survey takers a wide variety of rewards for paid surveys.
Whether monetary incentives such as cash payouts or exclusive and high-quality vouchers: At mypinio, survey participants can choose between many different rewards. And survey participants on mypinio can pay out their rewards and bonuses themselves. For initiators of paid surveys, this is a decisive advantage. Because on a platform that offers a wide variety of rewards, bonuses and incentives, a large number of potential survey participants sign up. This means that initiators of paid surveys can focus on a single platform and don't have to worry about their survey being answered several times by the same person. mypinio offers initiators of paid surveys even more advantages, namely a very high level of member engagement thanks to the hybrid combination of social media elements and market research platform. This also enables companies to find brand ambassadors and influencers who mention their products positively.
What about non-cash benefits as rewards for taking part in surveys?
Participants are not usually offered benefits in kind as rewards for taking part in surveys, but instead receive financial compensation in the form of cash, vouchers or a credit to their account. However, sometimes there are also non-cash benefits as a reward for taking part in surveys, for example if companies or organisations carry out a survey on their own and no market research institute or online panel is commissioned. The following is a summary of possible rewards for survey participants.
Gift cards: Gift cards for shops, services or online platforms can be an attractive reward for survey participants.
Products: Some companies offer products as a reward for participating in their surveys. These could be, for example, free samples of new products or discounts on existing products.
Benefits in kind: Benefits in kind, such as a free subscription to a magazine or a free membership to a club, could be attractive to survey participants.
Free tickets: Free tickets to events such as concerts, theatre performances or sporting events could be a welcome reward for survey participants.
Shopping vouchers: Vouchers for shops or online platforms could be an attractive reward for survey participants.
Travel: Some companies offer travel or airline tickets as a reward for participating in their surveys.
Non-fiction books: Non-fiction books on various topics could be an attractive reward for survey participants who like to read.
Electronic devices: Some companies offer electronic devices such as smartphones, tablets or laptops as a reward for participating in their surveys.
Games: Games for consoles or computers could be an attractive reward for survey participants who like to play games.
It is important to note that the type of in-kind benefits offered as rewards usually depends on the company conducting the survey. Each company has its own reward structures and options, and not all in-kind benefits may be available in every survey. It is therefore advisable to find out what rewards are available before taking part in a survey.
Keywords of this blog post
rewards | incentives | paid surveys | survey takers | survey participants | cash | vouchers